01 – General Andrew Lewis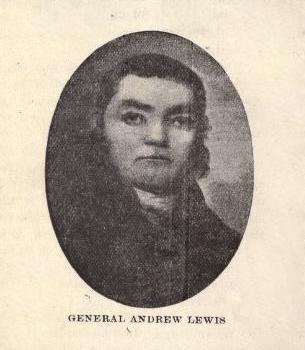 General Andrew Lewis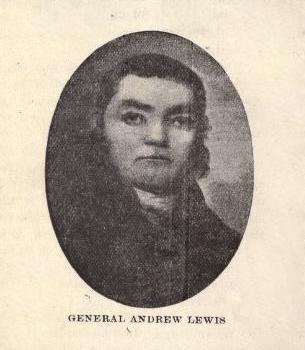 Gen. Andrew Lewis, the hero of the Battle was not only a gentleman of education and refinement, but was a past master in the art of military tactics, having entered upon his career in 1742 as Captain of Malitia and ten years later as head of Militia of his county. He was with Washington at Great Meadows and Fort Necessity in 1754, when he was twice wounded. In 1755, he was detailed to build forts hence was not present at Braddock's disaster. In 1756, he led the Big Sandy expedition against the Shawnees. In 1758, when, with Washington and Gen. Forbes, at Fort Duquesne, he was wounded.
He surrendered to a French officer, was imprisoned at Montreal, was exchanged and saw active service. In 1762 at his request his company was disbanded. In 1763 he was appointed to Lieut. for Augusta Co.
We next find him a member of the Virginia House of Burgesses and a member of a committee to negotiate treaties. It was while thus engaged at the treaty of Fort Stanwix that the Governor of New York said of him, "He looks like a genius of the forest, and, the very ground seems to tremble under him as he walks along." It is from Col. Stewart, his biographer, we learn that "He was upwards of six feet high, of uncommon strength and agility, and his form of the most exact symmetry He had a stern countenance and was of a reserved and distant deportment, which rendered his presence more awful than engaging." While Mr. Alexander Reed, of Rockbridge County, Virginia, who was with him at Point Pleasant, describes him thus; "He was a man of reserved manners, and great dignity of character somewhat of the order of General Washington." General Washington held him in such esteem that he recommended that he be made commander-in-chief of the Continental army.
The Battle of Point Pleasant was not only the pivotal point in the life of the nation, but in the life of General Lewis as well. Heretofore he had fought as a British subject. In defying the orders of Lord Dunmore, the Tory Governor, he was not only among the first to defy Briton, but the first to take up arms in defiance of British authority and from this time on we find him enlisted in the cause of the colonists as against the English Crown. It seems the irony of fate that he should not have lived to witness the surrender at Yorktown. While enroute home he died of a fever at the home of his friend, Col. Buford, and was taken to his own estate "Richfield" where his remains were interred Sept. 20, 1731, near the town of Salem, where they reposed for many years in an unmarked and neglected grave. A few years ago, the Ladies of the Margaret Lynn Lewis Chapter, Daughters of the American Revolution, of Roanoke, Virginia, had his remains (which were found well preserved) removed to the East Hill Salem Cemetery, where, in 1902, they erected a stately shaft to his memory. One of the six figures of Roger's equestrian statute at Richmond, commemorating famous Virginians, is that of General Andrew Lewis, but the greatest of his monuments is builded in the hearts of a grateful American Republic.
Beside his brother Col. Charles Lewis, and John, son of his brother William, Andrew had three sons in the Battle of Point Pleasant. What greater love can a man have for his country than, like Jacob of old, to lay his sons as a sacrifice on his country's altar?
SOURCE: The Battle of Point Pleasant A Battle of the Revolution, October 10th, 1774, Mrs. Livia Nye Simpson-Poffenbarger, The State Gazette, Point Pleasant, W.V., 1909